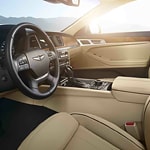 Each person on our Davies, FL team knows that when it comes to your car, convenient features can save valuable time. If you're in the market for a popular luxury midsize sedan, we're pleased to suggest the Genesis G80. With a design that streamlines your everyday tasks, this elegant car makes each trip a little bit easier.
When you're carrying groceries or packages, the G80's smart trunk comes in handy. Just stand close to it for three seconds; as long as your smart key is on you, it will open automatically and allow you to deposit your items.
At Rick Case Genesis Davies, we know that extreme weather conditions can affect the interior of your car. With the G80, you can feel comfortable from the moment you get inside, thanks to the available heated and ventilated seats. With the push of a button, you can be surrounded by soothing heat or a cooling breeze. Want to learn more? Stop in to our dealership for a test drive today.