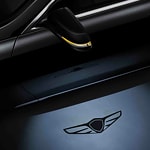 The G80 sedan is the vehicle of choice among people who desire to own a luxury car at an affordable price. Even the base 3.8 models in our Rick Case Genesis Davie inventory come with a wide range of luxurious features that enhance comfort and convenience.
The cabin of the G80 is designed to minimize noise from outside the midsize vehicle while driving. Occupants are treated to a plush interior that includes leather-covered seating and upholstered accents throughout. The cabin also has real wood trim. The infotainment system links with smartphones. Navigation and other system functions are chosen on the touchscreen that measures eight inches. The trunk provides hands-free operation, and the windshield wipers turn on automatically when sensing moisture.
Features unique to the G80 include power-folding side mirrors that are also heated. When approaching the vehicle, the Genesis logo illuminates to show the way. The windshield automatically eliminates fog thanks to the built-in humidity sensor.